PENTHOUSE MAYAN BEACH RUINS
With great views of Mayan Ruins and the Tulum National Park, this two-floor penthouse is a natural refuge with fast connectivity to beaches (10min motorbike) & the downtown area of Tulum (15min walk).
The fully furnished penthouse comes with ✔︎ Smart TV (Netflix) ✔︎ Kitchen & ✔︎ High-Speed Internet.
You can use shared facilities like: ✔︎ 25 meter pool ✔︎ Gym ✔︎ Hot tub ✔︎ Yoga area and ✔︎ Outdoor cinema.
This two-floor penthouse will make a great home for you during your stay in Tulum. It offers two bedrooms, a living room, one bathroom, a modern kitchen, and is fully equipped with ❄︎AC❄︎.
The fully furnished penthouse comes with ✔︎ smart TV ✔︎ fully equipped kitchen, ✔︎ high-speed internet, and a lot more.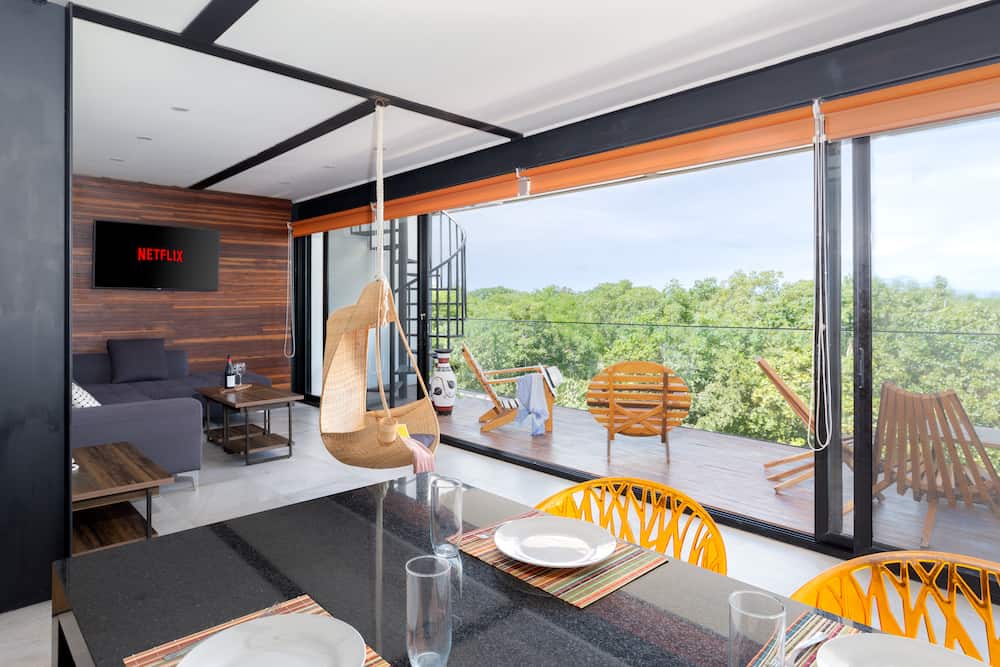 High speed internet (150 Mbit/s fiber optic)
Private terrace with jungle and ruins view
Surrounded by jungle and nature and still only minutes away from downtown. The next beach called 'Playa Paraiso' is only 1.7 miles away from the penthouse. Supermarkets, car rentals , bicycle rentals, snorkeling schools, pharmacies, restaurants, bars and everything else is just in walking distance.